John Patrick Morgan's deep training in being free, loving, and powerful in the creation of all that you desire.
CREATING LOVE & POWER is a 4-day intensive training in the liberation and activation of an authentic way of being that produces fulfillment and success in all areas of your life and business. It is for those committed to forging their own way in a world of uncertainty and conformity — and who wish to do so with love as a guiding force.
This training is a threshold.
Now and here, you will tolerate the truth of what limits you and confront the reality of your greatness.
What attendees are saying...
What this training is NOT...
CREATING LOVE & POWER is not a motivational event. We will not be dancing or triggering your dopamine center. In fact, you could say we are anti-hype in that our entire purpose is for you to be the source and creator of your own power.
This is not a multi-speaker event designed to inspire you to want real coaching and training. This is the coaching and training you are looking for.
This intensive traning is not a sit-back-and-listen seminar. You will be engaged in deep and life-changing dialogue with yourself and others throughout our entire four days together.
Finally, CREATING LOVE & POWER is not for the faint of heart. Our work is emotionally and psychologically confronting as well as existentially decentering. Great liberation requires great courage.
Those who join us and engage fully will wake up to a freer, more loving, and more powerful way of experiencing the world and themselves. 
What this training is...
CREATING LOVE & POWER is a gateway into a radical approach to living and working that puts you at the center of the creative universe.
It is a worldview-shifting conversation that yields not only immediate transformative results but also practical tools that you will use for a lifetime.
These tools will empower you to continuously create greater health and vitality, more fulfilling relationships, and all the monetary and material success you desire.
You will complete this training with an embodied ability to...
Vision and dream for your life with a more innocent and honest grandiosity than you've been able to since you were a child.

Identify ways of being that limit you from creating such dreams - and the thinking, feeling, and believing that create them

Liberate yourself from these limitations through a repeatable process that produces a felt experience of real relief and freedom

Uncover deep truths of who you are and capture them in a concise and powerful declaration of your Being

Use your voice and speaking to activate and cultivate ways of being with fun practices that you enjoy using regularly

Produce genuine gratitude for that which you have yet to achieve, supercharging your power to create

Determine exactly what actions to take to materialize your dreams and how to prioritize these actions
CREATING 
LOVE & POWER
4-Day Training w/ John Patrick Morgan
9th-12th November 2023
Start Thursday 9am - Finish Sunday 1pm
Le Meridian Del Fina, Santa Monica, CA
"JP is a force

of nature.

"
Brooke Dooley, Film Producer
This training is right for you, if...
If you're intelligent, action-oriented, and have a foundation of experience in personal development, then CREATING LOVE & POWER is the perfect training for you. 
During our intensive 4 days together, we will dive extraordinarily deep and stack numerous principles upon each other to construct a new worldview and skillset. In just a few days, your world will look radically different and you will feel your power in it as palpably greater. 
If you're involved in other personal growth programs or coaching relationships, then what you experience and learn in this training will immediately amplify your results in those programs and relationships. CREATING LOVE & POWER will increase your ROI in all other personal and professional development for the rest of your life.
Our schedule...
CREATING LOVE & POWER takes place over four exciting days.
We will be together in the hotel ballroom for full days Thursday through Saturday and a half-day on Sunday. Lunch breaks will be 90 minutes, giving you the opportunity to get some fresh air and eat outside the hotel. Short coffee/tea/water breaks will occur throughout the training portions of the training.
In addition, we will provide a number ofoptional early morning and evening sessions to deepen your expereince, growth, and connection with our community.
DAY 1
DREAMS & FEARS
9:00am - Registration

9:00am - Doors Open

10:00am - Welcome w/ Becky Robbins 
10:30am - Creating w/ JP
12:00pm - Lunch
1:30pm - 

Creating

 w/ JP

4:30pm - Finish Day 1


7:00pm Peer Support Meetup
DAY 2
LIBERATION
6:00am - Sunrise Session 


9:00am -

 

Creating

 w/ JP

12:00pm - Lunch
1:30pm -

 

Creating

 w/ JP

4:30pm - Finish Day 2


7:00pm Peer Support Meetup
DAY 3
ABRA KADABRA 
6:00am - Sunrise Session


9:00am -

 

Creating

 w/ JP

9:00am -

 

The Courage to Speak w/ Rich Litvin

12:00pm - Lunch
1:30pm -

 

Creating

 w/ JP

3:15pm - Creating Value w/ Suzii Chan

4:00pm - Creating w/ JP
4:30pm - Finish Day 3


7:00pm - Wildcard
DAY 4
PURE CREATION
7:00am Creating Breakfast (Optional)
8:15am - Finish Breakfast


9:00am -

 

Creating

 w/ JP

1:00pm - Finish Day 4
 
Socialising & Farewell until 3pm
CREATING 
LOVE & POWER
4-Day Training w/ John Patrick Morgan
9th-12th November 2023
Start Thursday 9am - Finish Sunday 1pm
Le Meridian Del Fina, Santa Monica, CA
About your guides
The philosophy and practice of Creating was developed by John Patrick Morgan.
In addition, we have two Special Guests with us in Santa Monica.
Kicking off the training will be a powerful welcome by a friend and mentor of JP - the artist, godmother of personal development, and star of the upcoming series The Art of Art; Becky Robbins.
On Saturday morning, we will have a special powerful session on The Courage to Speak with Rich Litvin. Rich is another of JP's close friends and mentors and this special session — which Rich & JP designed exclusively for this training — will be life-changing all on its own.
John Patrick Morgan
Creating Founder
John Patrick Morgan is a practical philosopher, writer, and speaker who has dedicated his life to championing the freedom, love, and power of human beings.
Post his formal studies in Physics and Mathematics at the University of Rhode Island and the University of Sydney, JP built multiple small businesses (including a global web media company from a laptop and a backpack before the term 'digital nomad' existed), developed real estate, traveled the world for years on end, coached human rights leaders, recorded albums & toured with his band, created a children's library in Cambodia, learned to scuba dive & pilot gliders, published writing and photography, competed as a black belt & triathlete, trained with Buddhist monks in India, cycled toured for months on end and many other adventures.
In more recent years, JP's adventures have turned inward as his family came into being. He and his wife now homestead with their two young boys on their small farm in Maui, Hawaii. His lifestyle and family, including farming, fitness, and a fascination with Artificial Intelligence, he shares openly on social media.
The foundation of John Patrick Morgan's role as a philosopher, teacher, and guide, is his being a real-world practitioner. He walks his talk, lives what he teaches, and has a genuine and powerful commitment to always championing the one person in front or him.
Special Guest: Becky Robbins
Becky Robbins is a best-selling artist and philanthropist, celebrated for her pioneering work in the personal development field, as the first wife of Tony Robbins, and as co-founder of Robbins Research International Inc. Across two decades, she developed coaching programs, introduced many current self-help tools and techniques, and assisted in the pioneering of the first highly impactful series of infomercials. She worked alongside colleagues from that industry and also those well-known in entertainment globally. 
Each of Becky's original and intuitively guided artworks are painted with oil on canvas, taking around nine months to complete, and the original pieces commanding fees of over $1,000,000 USD. A former registered nurse with specializations in biology and anatomy, many aspects of the human body are brought to life through her art. Becky's works are featured in art galleries, corporations, and private collections around the world. 
Becky lives in San Diego in California, and continues to support the spiritual evolution of people from all walks of life.
Special Guest: Rich Litvin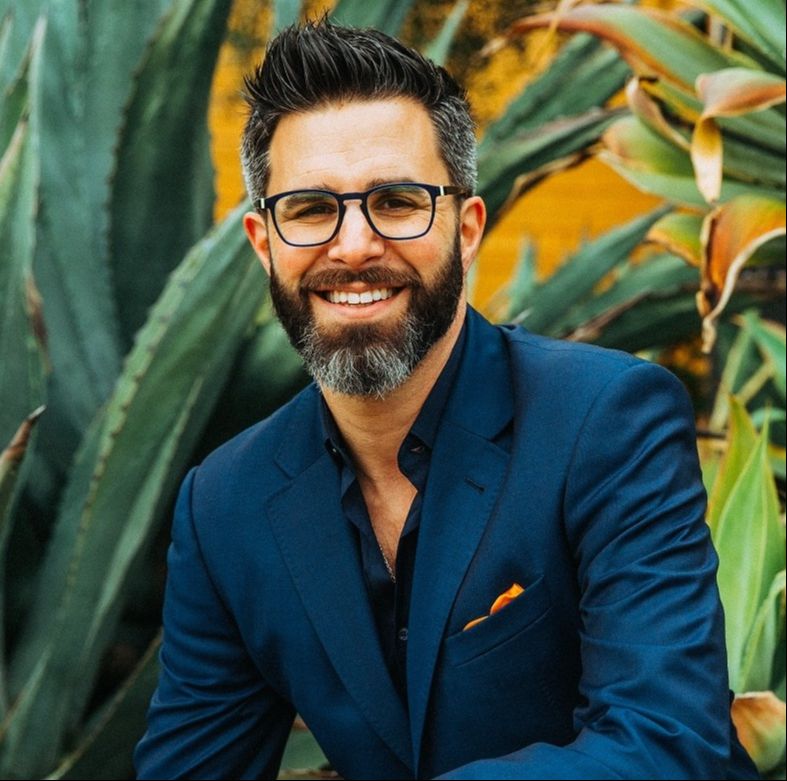 Rich Litvin is the person ultra-successful people call when they are ready to re-light their fire and reach their next level of success.
His clients include entrepreneurs, CEOs, investors, physicians, surgeons, rabbis, and Special Forces operatives. In addition, he has coached gold-medal-winning Olympic athletes, Hollywood film directors, the adult children of billionaires, and hedge fund managers with hundreds of billions of dollars of assets under management.
Rich founded 4PC – a community of the top 4% of executive and leadership coaches. He is the co-author of the bestselling book, The Prosperous Coach, and author of the forthcoming book, The Powerful Coach.
A Brit who now lives in California, Rich supports talented, driven, ambitious leaders facing the unique challenges that arise after huge success.
"Your biggest breakthroughs are on the
 other side of courage."
Rich Litvin
The location...
CREATING 
LOVE & POWER

will be held at Le Meridian Del Fina, just a short walk from the beach in sunny Santa Monica, California. 

Make this a full-on-retreat expereince by staying with us at Le Meridian Del Fina and take advantage of this special opportunity for socializing throughout this chic hotel's bar, games room, heated saltwater pool, and 24-hour gym.

Booking contact details will follow your purchase of a seat.
100% No-Money Back Guarantee...
Be still and know that when you buy a seat at CREATING LOVE & POWER, it is a 100% non-refundable commitment. We guarantee you that there will be NO refunds under any circumstance. 
From the moment we committed to providing you with this training, there was no turning back, financially or otherwise. This quality of commitment is fundamental to the power of Creating. It is important that you know and feel how your payment is an instrument of our work. The moment you cross the threshold by buying your seat, we have begun.
If you buy a seat and do not attend, your investment may be used as credit toward a future Creating in-person event or self-study course. 
CREATING 
LOVE & POWER
4-Day Training w/ John Patrick Morgan
9th-12th November 2023
Start Thursday 9am - Finish Sunday 1pm
Le Meridian Del Fina, Santa Monica, CA
"Watching JP create with someone is an honor. Being in dialogue with him

is an exercise in love and magic.

"
Lea Ann Mallett, Activist & Executive Director
More Praise from Attendees... 
"I've learned to become less judgmental, more kind and loving with myself, which has also impacted my relationships with others."
- Tyrone Crowley
"One of the huge differences between other events... is that we've actually practiced these tools. We haven't just talked about them. I'm a completely different person."
- Stefano Palumbo
"I've gained so much more than I set out to. It's been incredibly emotional. I didn't expect that the techniques would bring out so much emotion."
- Shauna Krstevska
"I was able to access really deep emotions, transform my whole being within that."
- Khadeeja Sheikh
"I had the opportunity to go on stage and to work with Darren to really work at a deeper level, to co-create something here that I hadn't been able to really access on my own."
- Kerry Norton
"There is something special about experiencing people's physicality in the room and their ability, because they're next to each other, not waiting to come off mute or on camera on Zoom, to dance with each other in the moment, to create something that's so much more powerful."
- Joe Aston
"I really felt like JP's not trying to imprint his beliefs into someone, but he's always sharing a perspective."
- Inessa Love
"So JP Morgan, Darren, and Lindsay, I think they all bring something a little different. They all have their individual flavor, but together they're the most delicious combination."
- Carina Loweth
"It was just beautiful and life-changing to be here."
- Charlo Allizard
"I came in with no expectations, but what I've gained is far more than I anticipated. Seeing everyone face to face, having live experiences, it brought life and profound insights into the challenges I've faced. Through exercises that take you into deep shadows, I discovered parts of myself I've hidden away, leading to a new hope and a fresh perspective on life."
- Ben Butt
"This weekend for me has been everything I wanted and more. I came in not knowing what I was missing and I'm leaving with not just clarity on who I'm going to be after this, but clarity in what I'm going to do."
- Al Kenny
"I'm leaving here today physically, emotionally and spiritually a different person than when I came."
- Todd Pacheco
"Multiple times a week I've been reviewing my notes because this is just so deep."
- Rob Cressy 
"I don't know another community or place or group of people who are doing personal development training that would be actually filled with so much power, so much challenge and so much love."
- Joanna Bielecka
"Love has no uttermost,
 as the stars have no number and the sea no rest."
Eleanor Farjeon